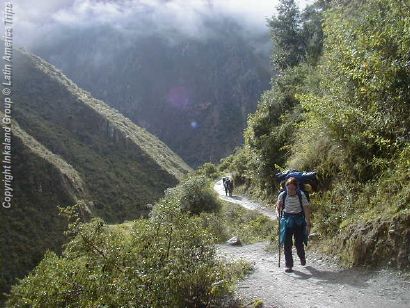 INCA TRAIL AVAILABILITY SPACES
The information shown on this website shows the real-time availability of Inca Trail trek permits by INC (Instituto Nacional de Cultura). The trek permits are required for the classic Inca Trail 4 days , the shorter Inca Trail 2 days and the Salkantay / Inca Trail trek 7 days. Alternative treks such as Lares Valley, Ausangate, Choquequirao, and the Inca Trail via Santa Teresa do not require trek permits. The government issues a maximum of 500 trek permits for each day. Since trekking staff are also included within this limit of 500 persons this means that, on average, about 200 trek permits are allocated to tourists and about 300 allocated to guides, cooks and porters.
How to use this data base: First you will realise that the information given on the above mentioned website is in Spanish! The data base is mainly used by the trekking agencies in Cusco to decide when they need to close their groups and buy the trek permits. However you don't need to know much Spanish in order to check how many trek permits are still available on the date that you want to do the trek.
Please, notice that: The Inca Trail is closed in February for maintenance; so this month is not available.
The availability applies to the Inca Trail itself and not to our Agency. Any Agency you choose will have the same availability. Therefore, it is useless to contact another Agency if the date you want is not available.
A large number of available spaces does not mean at all that "there is still time". Some agencies group their requests together and it is not unusual to see 30 spaces go away in only 5 minutes.
Availability is controlled by the Peruvian National Institut of Culture. Only they are able to manage and authorize the access to the Inca Trail.
According to the current regulations (Resolution nº 02-2003-UGM-CD), the access to the Inca Trail is limited to 500 people per day, including the personnel. For this reason, the number of available spaces on this page corresponds to spaces for trekkers, that is to say 40% of the total number (60% approximately is for the Trek personnel).
According to the same regulations, reservations can only be made up for the current season (from March to January).
For the next season, it is possible to pre-reserve the Trek by making first a 50% down payment and paying the 50% balance to be paid either direct at our office or your hotel..
For practical reasons, it is not possible to make reservations less than 72 hours before the departure of the Trek or with 4 spaces or less available.
 The inca Trail Availability and Permits: 2022 – 2023
*This information is provided courtesy of the Regional Directorate of Culture of Cusco.