EXPLORE QUELCCAYA GLACIER
Where is the Quelccaya Ice Cap, and what are its characteristics?
Quelccaya is the second-largest tropical glacier globally and is located in Cusco, in the eastern mountain range of the Peruvian Andes. This incredible place has a snowy area of ​​42 km² (137,795 ft) and has a depth of 200 m (660 ft).
Today, Quelccaya ice cap is larger than 9,000 soccer fields, so seeing it from its viewpoint, or reaching the summit is quite an experience.
The Quelccaya ice cap currently shows signs of the impact of climate change and a decrease in snow level. Now is an ideal time to start planning a visit! It is still a fantastic place to fascinate all the senses, live a lifetime adventure and have beautiful memories in the tropical glacier.
An Andean community lives near the glacier, in Phinaya small town. This community, located over 5000 m.a.s.l., seeks the sustainable conservation of this sacred place through their ancestral knowledge and traditions. Here you can spend the night with local families who will be happy and glad to welcome you in their home.
How to get to the Quelccaya glacier?
You have two ways to get to the Quelccaya glacier, independently or with a travel agency. Let's see the details below.
Travel to Quelccaya independently:
Suppose you would like to get to the Quelccaya glacier on your own. In that case, we suggest you hire private transportation to do the full tour leaving from Cusco city, passing through Pitumarca, advancing to the Sibinacocha lagoon to finally reach the glacier viewpoint. This is an option for backpackers since it is a little cheaper, but you will have to plan everything independently. And this is not always an easy thing, there are many details to consider!
Travel to Quelccaya with a Travel Agency:
This is the most comfortable way to simply enjoy the trip to the second-largest tropical ice cap on planet earth. Travel agencies take care of all details so you can relax and integrate with nature without worries. Inka Land Group specializes in responsible and adventure travel in the Andes of Peru. We work hand in hand with local native communities who are our allies. You will be the first-hand protagonist of an experiential and sustainable trip to Peru; since travelling with us, you will be contributing directly to the local economy of these Andean communities.
What activities are there to do on the Quelccaya ice cap?
Besides visiting the glacier viewpoint and having fun with activities in the snow, this snowy mountain belonging to the Vilcanota mountain range circuit offers other equally spectacular places nearby, and you can visit them when you come to Quelccaya.
Laguna Sibinacocha:
This lagoon, located at the foot of the Vilcanota mountain range, is of glacial origin and has an extension of approximately 25 km (82 021 ft) and a depth of 150 m (490 ft). In addition to being surrounded by impressive glaciers, the Sibinacocha lagoon is unique because its water has three colours that you can contemplate on boat navigation. At first, you will see a bluish-green colour, then it will turn intense turquoise, and after a while, the colour of the water will be pink. These changes occur because of the earth colour in the background. Also, during February and March, you can see flamingos around.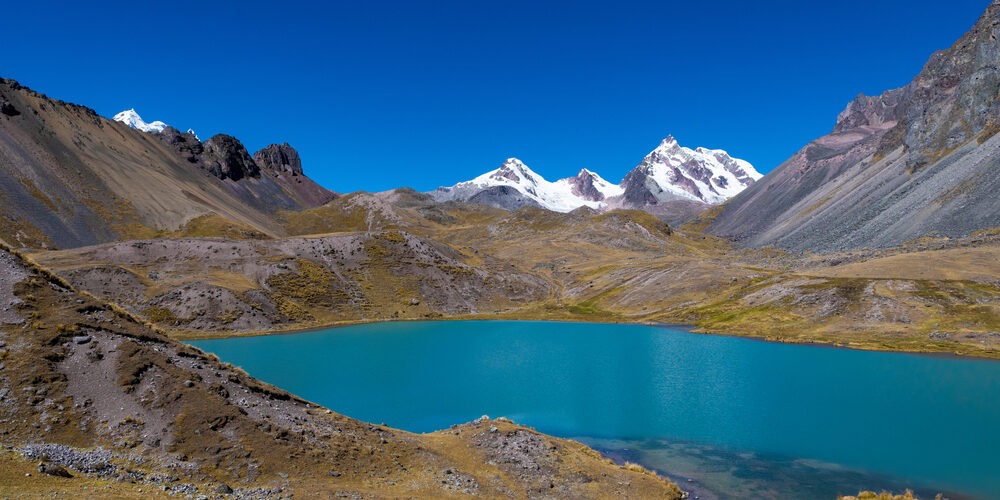 The temperature here is around 15°C, so it is a good idea to keep warm. When travelling with Kallpa Travel, you will sail in a motorboat with Mama Julia and Mama Mariela, the beautiful ladies who will welcome us into their home with their family.
Phinaya:
Phinaya is the closest community to the Sibinacocha lagoon and the Quelccaya glacier. This is a traditional high Andean community where its inhabitants are dedicated to agriculture and llamas and alpacas breeding. Here in Phinaya, we spend the night in a cottage with warm rooms.
Pitumarca:
The town of Pitumarca is two hours from the city of Cusco. If you come to Quelccaya with us, we will make our first stop here to visit the colonial bridge, the church, and make the last purchases before continuing to the glacier. This is the last town before entering the high mountains of Peru.
Quelccaya viewpoint:
This is one of the most stunning places that our eyes have seen, the vastness of its landscapes, the pure nature, and the mountains' majesty make the Quelccaya glacier one of the most magnificent places in the world. Here we can enjoy activities in the snow. We can take photos and integrate with nature, having the pleasant feeling that we are doing a sustainable experiential journey with the environment and the people who live there.
The Quelccaya ice cap faces climate change.
This impressive glacier located in Cusco is not free from the impact of climate change happening on our planet. Recent studies suggest that it may go away soon. About 99% of the tropical glaciers are in the Andes, and 70% are in Peru. A future disappearance of the Quelccaya ice cap could mean essential changes in the ecosystem, impact on tourism, and consequences on local populations' culture and traditions. When analyzing the projections of scientists and reviewing previous years' statistics (the glacier has decreased 31% in the last 30 years), some theories indicate that the glacier will reach an irreversible state of disappearance by 2050. It is becoming increasingly important to carry out responsible tourism to protect it and extend its life on the earth.
How to travel sustainably to Quelccaya ice cap?
If you want to have a sustainable trip to the Quelccaya glacier, we suggest you stay in the Phinaya community's homestays. These families only welcome people they trust, and Domingo -our CEO and founder- is one of them. Therefore, the only way to travel responsibly and to enjoy a warm room in the middle of the mountains is with Inka Land Group. You will be treated like at home!
Also, when travelling with Inka Land Group, you will automatically be supporting the economy of that family.
This is definitely the only kind of tourism we know; where everyone sees benefits from travelling!
Recommendations when travelling to Quelccaya ice cap:
How to avoid altitude sickness?
Acclimatize: this world wonder is at an altitude of 5000 masl (16.000 feet), so it is advisable to acclimatize in the city of Cusco at least one or two days before the exploration.
Eat light: avoid heavy food before and during the trip. So you can be as light as possible to walk in altitude.
How to dress in Quelccaya?
We suggest using a layering system. The first layer could be made of alpaca fibre or wool to preserve body temperature, the second layer could be a polar fleece to warm the body, the third layer could be a windbreaker jacket.
We also suggest bringing a hat for sun protection, a scarf to protect your neck from the wind and high temperatures, you can also carry an additional jacket and gloves for the cold. At night we recommend using wool socks, warm base layers and hat.
It is advisable to wear mountain shoes, resistant to water and with a sole for slippery terrain.
What other things to bring to Quelccaya?
Sun protection: 50+ sunscreen and sunglasses to protect from UV rays. Radiation is intense in the high mountains of Peru.
Suggested accessories: a first aid kit (we have ours for you, however, you know which medications suits you better), also carry a flashlight, pocket knife, photographic camera. We will take the rest!
Skin protection: moisturizer, sunscreen and chapstick.
Glacier of Quelccaya Trekking 2 Days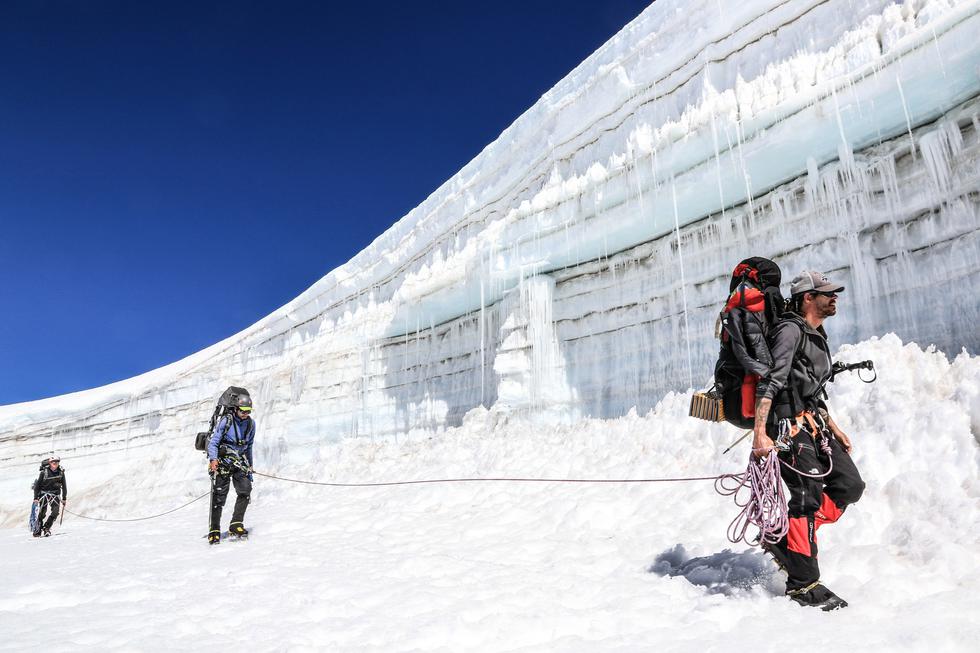 Trek to Quelccaya glacier is located in the southeast of Peru, in the Cusco region, it is the most extensive tropical glacier in the world of 44 square kilometers and an ice layer more than 200 meters thick. It is one of the favorite destinations for professional mountaineers, who come to conquer its peak.
Quelccaya is a majestic glacier, ideal for practicing adventure sports and appreciating nature; numerous species of fauna such as alpacas, llamas and vicuñas inhabit this area, which are of great importance to the nearby populations of this area. It is made up of U-shaped valleys, glacial streaks in the volcanic rocks and beautiful lagoons in the Vilcanota mountain range.
Peru is a country where you can find almost all the ecosystems in the world. A clear example is the Quelccaya glacier in Cusco, considered one of the wonders of the country. Glaciers are the largest freshwater reserves on the planet. They are a source of water for agriculture, industrial activities and domestic uses.
Trip Highlights
Numerous species such as alpacas, llamas and vicuñas inhabit this majestic glacier, which are of great importance to the nearby populations of this area.
Likewise, it is made up of U-shaped valleys, majestic glaciers and beautiful lagoons.
Cusco is considered the capital of the Tahuantinsuyo Empire, which has a great historical and architectural legacy.
The Quelccaya glacier is considered by the inhabitants of the high Andean zone as one of the main Apus of the Vilcanota mountain range.
Quelccaya is a perfect attraction for hiking and enjoying its enigmatic landscape.
Activities
This trekking is classified as one of the most difficult activities, due to the high altitudes that are reached during its trails, normally the excursion is made above 4,800 masl, and the highest point will be 5,400 masl. For this, we recommend doing this trek only for people who already have a lot of experience in high mountain routes. Because otherwise you could suffer the symptoms of altitude sickness. Likewise, you must be prepared to face the most hostile weather conditions, such as nights below -5 C °. Walks on hard terrain and with little oxygen.
If you have not had much experience in mountaineering, you should at least adapt your body to altitudes of 3500 masl 4 days before your Quelccaya tour.
Accommodations
Confortable Mountain Lodge : 1 night
Itinerary
DAY 1: CUSCO – PITIMARCA – SIBINACOCHA – PHINAYA
Level: Verystrenuous/Highaltitude
Max Elevation: 5070 m
Hiking Distance: 1 km
Approximate walking time: 1 hrs
Today we will pick you up from your hotel in the city of Cusco at 7:00 am. Then we go in our private transport to the town of Pitumarca, where we will make a stop to buy some products such as fruits, coca leaves, and some food for our adventure. Continuing with the tour we will continue towards the Ofecina valley, from where we will already appreciate the typical bucolic landscape of the Andes of Peru, surrounded by great mountains and herds of llamas grazing next to their shepherds.
After 4 hours of driving we will arrive at the Chilca valley from where we will undertake the ascent to the highest pass of the day, the great Jahuaycate (5070 masl). During the journey we will enjoy the most impressive views of the highlands of the Cusco region, where it is surrounded by the great chain of Ausangate Mountains, herds of Vicuñas, flamingos. At noon we will arrive at the great Sibinacocha lagoon, which has a natural beauty next to the Yayamari mountain.
At 13:00 pm, we will finally arrive at the town of Phinaya (4,700 masl), where we will be received by our local guide, who will provide us with the local lodging service. Upon our arrival our lunch will be ready.
In the afternoon we will explore the Parque de los Glaciares, located 30 minutes by car from the town, this natural beauty offers hills of colors, and we will enjoy a beautiful sunset in the Ccascara lagoon. On our return we will have our dinner, and rest for our great hike the next day.
DAY 2: EXPLORING THE QUELCCAYA – RETURN TO CUSCO
Level: Verystrenuous/Highaltitude
Max Elevation: 5400 m
Hiking Distance: 18 km
Approximate walking time: 8 hrs
Today we start early with our expedition, at 6:00 am it will be our breakfast, and then we go in the transport to the starting point of the walk. At 7:45 am we start the ascent passing through the Ruyta wetlands, after two hours we will arrive at the Ch'allpa lagoon, from where we can see the Ausangate mountain ranges.
After two more hours we arrive at the Quelccaya glacier lagoon, and from there we will explore the glacier in all its magnitude, then we will go to the other viewpoint where we can see two lagoons, one chocolate-colored and the other turquoise, with the bottom of the great snow-capped Quelccaya.
After eating our snack lunch, we begin the descent to the Ruyta Valley, we will cross large plains where it is inhabited by vicuñas and alpacas. Today we finish our walk around 3:00 pm.
At sunset we leave the town of Phinaya, and return to Cusco where we will arrive at 10:00 pm.
INCLUDED IN THE TREK TO QUELCCAYA GLACIER:
– Private transportation go and back
– Professional Guide (English / Spanish)
– Food: 02 lunches, 01 dinner, 01 breakfast
– Andean Local Lodge 1 night
– First Aid Kit
– Oxygen bottle
– 01 emergency horse
NOT INCLUDED IN THE TREK TO QUELCCAYA GLACIER:
– High mountain clothing and equipment
– Sleeping bag
– Trekking sticks
– Riding horse if required
– Travel insurance
– Other personal cost