Juchuycocha Lake the most spectacular lakes in South America that you must visit: There's a chance you've never heard of Juchuycocha Lake, a pristine alpine lake that's sitting high in the lush mountains of Peru's Sacred Valley. This incredible, but long day hike starts from the authentic village of Urubamba.
Juchuycocha lake is still a hidden gem, so it's more than likely you won't be able to book an organized tour. This off-the-beaten-path hike is for intrepid travelers looking for a real and untouched beautiful lake in one of Peru's most bountiful regions.
Believe it or not, this lake sits at around 4,650 meters (15,200 feet)! The winding mountain path climbs up over 1,220 meters, that's a whopping 4,000 ft! This strenuous hike is not for the faint-of-heart, as it's around 18 km (11 miles) round-trip. Although it's a challenge, the rewards are more than worth the effort.
Juchuycocha Lake, a stunning alpine lake, lies hidden in the beautiful mountains behind Urubamba in Peru's Sacred Valley. This untouched lake sits at almost 15,200 feet and remains a hidden treasure. The strenuous trek makes for a long, but rewarding day trip from Urubamba.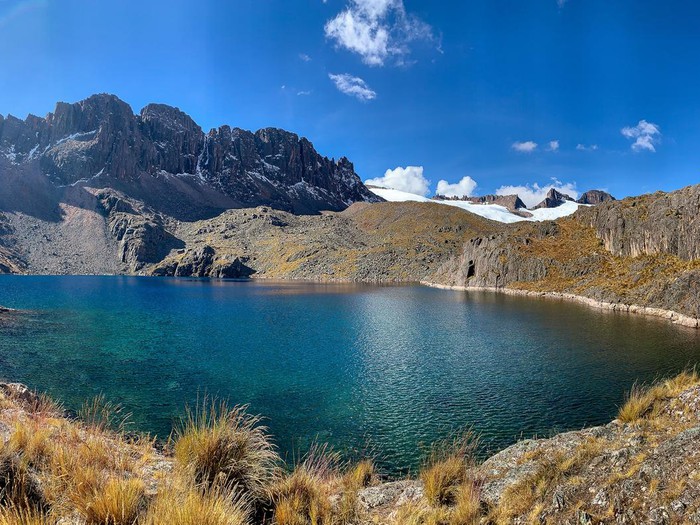 First, start in the village of San Isidro. Next, follow the gradual incline 4 mile walk to the trailhead. The trailhead is where the real adventure begins. Take the steep, yet scenic uphill climb to the lake. The small trail twists and turns along the stunning hillside. There are multiple viewpoints of beautiful Chicón Mountain and its glistening glaciers. Reach the glistening lake and basque in all its beauty, take a refreshing dip, and explore a few of the trails around. Finally, return to Urubamba via the same trail. Laguna Juchuycocha is definitely worth the trek.
HIGHLIGHTS OF OUR HIDDEN LAKE IN THE SACRED VALLEY OF THE INCAS
We will work hard to create a lifetime experience for you and your loved ones on this journey on the Juchuycocha lake.
We have the best and most passionate team of workers.
Be part of our social and environmental projects.
Our 1-day Juchuycocha hike has a fair and cheap price compared to other operators.
Make your one-day trip unhurried and with guides trained in first aid by a physician.
In addition to all the above, we prepare food for our hikers and team with 100% organic veggies purchased from local producers.
Trekking to Juchuycocha Lake and Chicon Glacier in Cusco – Peru
1 Day Trek 
Departure: Cusco o Urubamba
Arrival: Cusco o Urubamba
Number of days: 1 
Min. of peoples: 2
Number of days: 1
Altitude level: Min 3362 / Max 4774 m.s.n.m.
Difficulty level: Desafiante / Challenging
We start the day of adventure at our hotel from Cusco (however, it is recommended that you are staying in Urubamba) for this trek.The beginning of the trail is at the end of the Urubamba Chicon rural highway.
We start our walk, the first part is quite easy and approximately 1 hour and 30 minutes. This brings us to the beginning of the path. From here, the walk is quite steep and we will cross three very impressive Rock formations, with zig zag curves. The last long ascent of the path to the lake is approximately 3 hours. Along this last path, we will see impressive views to the Chicon glaciers with the beautiful Sacred Valley
behind us. Arriving at Laguna Juchuycocha we will see how the colour varies depending on the angle of the sun. Here we will rest and enjoy our boxed lunch and explore the area. From Laguna Juch
uycocha you may also want to continue walking uphill along the same path that takes a few minutes to reach a second lake. Here we can enjoy impressive views of the Sacred Valley and continuing further we approach the glacier and a third green lake. If you are not too tired, this extra walk is well worth the effort for the beautiful views. We return along the same path, enjoying views of the Urubamba Valley. The descent will be quite fast. In all, 8 hours of walking to enjoy this hike. We return to your hotel.
Included:
Professional guides
Transportation: We use private buses and minivans; very comfortable and with all the safety accessories according to the number of tourists, our driver has many years of experience.
Lunch Box.
Vegetation option available.
First aid kit including emergency oxygen balloon.
Not included:
Tip for the guide, Driver
Dinner
Entree fee
What you need to bring:
A personal backpack for the day
Suitable clothing for hiking: waterproof and comfortable shoes for long walks, rain jacket or rain poncho.
Canteen with water.
Toilet paper, hand sanitizer gel. These two items are very important.
Personal medications, within this list also includes muscle relaxants, tablets for altitude sickness and headache.
A sunscreen, sunglasses, hat or caps.
Private Tour: Juchuycocha Lake – Chicon Glacier, 1 Day Trek Cusco – Peru
Private tours are available and priced by party size.
2 Trekkers: $92 per person
3 Trekkers: $74 per person
4 Trekkers: $59 per person
5 Trekkers: $50 per person
6 Trekkers: $44 per person
7 Trekkers: $39 per person
8 or more Trekkers: $36 per person