General Information about Peru
Peru, one of the 8 mega-diverse countries in the world, offers unique experiences and a chance to enjoy an unforgettable vacation. Inheritors of an ancient culture, with hundreds of archaeological sites, Peru was home to Pre-Hispanic cultures, vestiges of which continue alive through present day customs and traditions of the Andean people. From the coast to the mountains and the lowland rainforest, you can enjoy a unique mixture of culture, history, adventure and nature as well as an unimaginable variety of foods complemented with the hospitality and warmth of its people.

Peru General Information: Why Visit Peru, Peru's Weather, Peru Coast, Peru Highlands, Peru Rainforest, Travel to Peru. Back to top
Why Visit Peru 
You might want to travel to Peru because it is the country that boasts Machu Picchu and is the centre of the Inca Culture; or because of its people and culture, it's wonderful food, the mystery of its Amazon rainforest that hosts the largest bio-diversity in the World… if you are challenging these statements, well my friend, you are right.
There is always a great reason to visit Peru, discover it with Inkaland Group.
Peru General Information: Why Visit Peru, Peru's Weather, Peru Coast, Peru Highlands, Peru Rainforest, Travel to Peru. Back to top
Coming to Peru
Nowadays travelling within Peru means you can find modern airports and airlines of international prestige which are supervised by the airline transport authority to comply with security and consumer standards. There are many weekly and daily frequencies from Europe and the USA to Peru as well as efficient intraregional connections from Chile, Bolivia and Ecuador.
Visa/Immigration Card (TAM)
Citizens of most countries in the Americas and Western Europe do not require a visa to travel to Peru. When entering Peru you will be asked to fill out an immigration card. This piece of paper is very important since it has to be given to the migratory authority when leaving the country. It is also very important you carry this paper with your passport during your stay in Peru as all hotels will ask you to present this paper in order to exonerate you from tax payments. We strongly recommend you to make a copy of both documents to avoid possible problems
Telephone Communication
Peru country code is 51. In order to receive phone calls from abroad you must dial (00) + (51) + (Department Code) + (Phone number). From the USA it is 011 51 + codes
Main departments Codes: Lima: 01, Cusco: 084, Puno: 051, Huaraz: 043, Arequipa: 054, Madre Dios: 082, Trujillo: 044, Chiclayo: 074, Ica: 056, Loreto: 065
If you are calling within Peru you must add a 0 to all department codes.
Internet Access
There are several internet cafes and cabins around in the main cities. Prices are around US$ 1 or S/. 3 an hour, though you are charged upon time spent.
Most of the 3 star and above hotels have Wi-Fi internet access or may provide PC's with internet access for free.
Peru's Weather
Although Peru is in the tropics, its weather varies due to its geographical diversity (coast, highlands, Amazon) and to the cold water Humboldt Current northwards along most of the coast.
On the Coast
The central and southern region of the Peruvian coast is generally sunny in the summer (November to May) and cloudy during the rest of the year. Temperatures vary between 20ºC and 30ºC during the summer and 10ºC and 20ºC during the winter. The northern region of the coast has sunshine almost all year, can also get cloudy with some rain between November and March, depending on the seasonal presence of the "El Niño" current.
In the Sierra (Highlands)
The Andes have usually a rainless winter that runs from April to October, where temperatures during the day are very warm, and a rainy season that lasts from November to March, being heaviest in January – February. In the highlands temperatures have accentuated variations between day and night, with sudden temperature falls after sunset (sometimes up to 15ºC) in the winter months (May-August).
In the Rainforest
In the Rainforest it can rain all year round and there may be high temperatures. From November to May rain is heavier, rivers rise, but from May to September temperatures are generally milder but never cold, except sometimes in Madre de Dios Department (south) where cold air-masses move in from Bolivia and Argentina in the winter months and you may need to wear a light jacket/sweater.
Peru General Information: Why Visit Peru, Peru's Weather, Peru Coast, Peru Highlands, Peru Rainforest, Travel to Peru. Back to top
Luggage
Upon arrival in Peru, either into Lima or Cusco (from La Paz) we tag all luggage for easy identification all over Peru. For cultural and sightseeing travel we recommend you bring luggage that is easy to manipulate for normal worldwide travel.
Many airlines have weight specifications that allow up to 30 kilos (66lbs) for checked in baggage and 5 kilos (11lbs.) for carry-on bags. In all the hotels we work with, we are usually allowed to leave luggage for the return journey. For adventure trips, trekking or rafting, we recommend duffel bags that are waterproof or can be lined with plastic bags to protect your clothes from water, no heavier than 20 kilos per person. These are easily tied on pack-animals and can be carried by porters (we use porters only on the Inca Trail since pack-animals are not allowed).
This weight includes duffel and sleeping bag. Sometimes couples choose to share a duffel bag.
**On the Inca Trail weight is an important factor, so we ask you to please pack lightly. The weight limit per person is 8 kilos (17.64 pounds). On the Inca Trail Fixed Departures we can supply duffel bags on request the night before departure during the briefing session. **
On the train journey to Machu Picchu, there are weight and size restrictions on luggage. (There is more info regarding this matter available).
Peru General Information: Why Visit Peru, Peru's Weather, Peru Coast, Peru Highlands, Peru Rainforest, Travel to Peru. Back to top
Taxes
Airport Tax
In most airports a security tax for intra-Peru flights must be paid. We cannot include it in our service costs because it varies. This is approximately US$6.00 for the Lima airport and around $5.00 in regional airports.
In Lima and other airports the international departure tax is approximately US$30.25, which must be paid at the airport prior to departure and immigration, in Nuevos Soles or US Dollars. Some airlines include this cost in the airfare.
Sales Tax
Sales tax (IGV) on goods and services in shops and restaurants is 19%, and is generally included in the prices shown. At hotels if you travel on your own or extend your stay, you can omit paying the sales tax by presenting a photocopy of your passport, so it is always good to have photocopies on hand.
Electric voltage
Ac 220 volts, 60 cycles. Usually five and four star hotels also offer electric voltage of 110 volts.
Health Matters
Insurance
We advise all travelers to check the coverage of their personal health insurance policy. We highly recommended you to purchase a travel-insurance policy to cover theft, loss and medical problems for the duration of your trip. It is advisable to bring a small personal first aid kit with you.
Altitude Sickness (Soroche)
To help prevent altitude sickness the best measure is to acclimatize for at least two days with limited activity, eat light meals, drink lots of water and abstain from alcohol.
Altitude sickness begins affecting people who quickly ascend to altitudes over 2,500 m / 8,100 ft. Symptoms include headaches, dizziness, nausea, vomiting, insomnia and loss of appetite. Risk of altitude sickness increases with higher altitudes, faster ascents and more physical exertion; and severe cases include fluid in the lungs (pulmonary edema) or swelling of the brain (high-altitude cerebral edema) and can only be treated by descending immediately. Being physically fit does not necessarily mean you are free from risk of altitude sickness.
Travelers with heart conditions or high blood pressure should check with their doctors before travelling to high altitudes.
Immunization
If you plan to travel to the rainforest, the administration of a Yellow Fever vaccine 10 days in advance is strongly recommended.
Water
We recommend you drink only bottled or previously boiled water and to bring a water bottle, especially if you will be travelling outside of the larger cities. To prevent dehydration, especially in the mountains, it is recommended to drink three litters of liquids daily – water or infusions.
Peru General Information: Why Visit Peru, Peru's Weather, Peru Coast, Peru Highlands, Peru Rainforest, Travel to Peru. Back to top
Money Matters
Currency & Exchange Rates
The official currency in Peru is the Nuevo Sol (S/.)
The average exchange rate is US$1.00 = S/.2.85 (although this may vary). It is common to exchange money (US dollars and Euros) in the street but it is recommended to make use of the Money Exchange Offices known as "Casas de Cambio" or banks for safety reasons.
The North American dollar is accepted in most commercial shops at the daily exchange rate.
ATM"s & Credit Cards
You will find ATM"s in the bigger cities. Most of them are located in airports, near banks or in major shopping malls. The main credit cards are usable in commercial establishments in Peru, although markets, small shops and "bodegas" will most likely not accept credit cards.
Tipping
We only include tipping for porters at airports, train or bus station transfers, where qualified porters certified by the proper authorities are located. Tips at hotels are usually not included since your contact with the hotel porters is personal at baggage delivery in the rooms, and baggage pick-up at check-out. Passengers are free to tip them once inside the hotel.
Tipping is not included for drivers, guides and/or camp crews, trekking and/or river guides during journeys; the amount depends on the number of days the people accompany you and the size of the party. Camp crews tend to be with you a minimum of 4 days. These are voluntary contributions and if desired, we recommend that the following guidelines be followed (amounts specified are per group and applicable for the length of the trip, not per day):
Drivers: US$15 -20
Transfer Agents: US$ 15 – 20
Head Cook: US$40
Camp Crew each: US$20
Porters/ mule drivers: US$15
Adventure or Tour Guides: US$60-100
Long-haul Drivers: US$ 25-50
Shopping
Lima's shops, galleries and markets offer a typical sampling of Peruvian crafts. The markets are usually less expensive, but unlike the shops, there is no quality guarantee. Store hours are approx. 10:00 a.m. to 8:00 p.m. Monday through Saturdays. Most all stores are closed on Sundays. Outside of Lima, vendors can be found every day of the week in designated areas in main cities, usually around the main squares.
Peru General Information: Why Visit Peru, Peru's Weather, Peru Coast, Peru Highlands, Peru Rainforest, Travel to Peru. Back to top
PERU PROFILE
Official Name: Republic of Peru
Geography
Area: 1.28 million sq. km. (496,225 sq. mi.); three times larger than California.
Cities: Capital–Lima/Callao metropolitan area (pop. 8.27 million, 2000).
Other cities–Arequipa, Chiclayo, Cuzco, Huancayo, Truujillo, Ayacucho, Piura, Iquitos, Chimbote.
Terrain: Western coastal plains, central rugged mountains (Andes), eastern lowlands with tropical forests.
Climate: Coastal area, arid and mild; Andes, temperate to frigid; eastern lowlands, tropically warm and humid.
Peru General Information: Why Visit Peru, Peru's Weather, Peru Coast, Peru Highlands, Peru Rainforest, Travel to Peru. Back to top
People
Nationality: Noun and adjective–Peruvian(s).
Population (2000 est.): 25.7 million (72.3 % urban).
Annual growth rate (2000 est.): 1.7%.
Ethnic groups (1961): Indian 45%. Mestizo 37%. White 15%. Black, Japanese, Chinese, and other 3%.
Religion (1993): Roman Catholic (89%).
Languages: Spanish (official), Quechua (official), Aymara and a large number of minor Amazonian languages.
Education: Years compulsory–11. Literacy–about 87.5% (1999).
Health (2000): Infant mortality rate–37/1,000. Life expectancy–67 male; 72 female.
Employed work force (1999, 7.2 million): Manufacturing–12.7%; commerce–26.4%; agriculture–5.8%; mining–0.4%; construction–5.2%; government–9.1% (est.); other services–40.4%.
Peru General Information: Why Visit Peru, Peru's Weather, Peru Coast, Peru Highlands, Peru Rainforest, Travel to Peru. Back to top
Government
Type: Constitutional republic.
Independence: 1821.
Constitution: December 1993.
Branches: Executive–president, two vice presidents, Council of Ministers. Legislative–unicameral Congress. Judicial–Supreme Court and lower courts, Tribunal of Constitutional Guarantees.
Administrative subdivisions: 12 regions, 24 departments, 1 constitutional province.
Political parties and movements: Peru Possible, National Unity, We Are Peru, Change 90/New Majority/Let's Go Neighbor/People's Solution, Union For Peru (UPF), American Popular Revolutionary Alliance (APRA), Independent Moralizing Front (FIM), Popular Christian Party (PPC), Popular Action (AP).
Suffrage: Universal over 18; compulsory until age 70 (members of the military may not vote).
Peru General Information: Why Visit Peru, Peru's Weather, Peru Coast, Peru Highlands, Peru Rainforest, Travel to Peru. Back to top
Flag:Peru Regiones Peru Coast, Peru Highlands and Peru Rainforest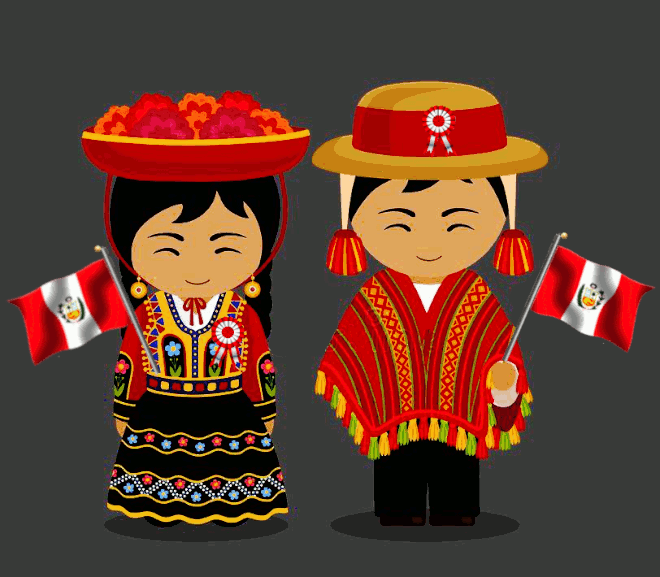 Economy (2000)
GDP (est.): $53.9 billion.
Annual growth rate: 3.6%.
Per capita GDP: $2,101.
Inflation rate: 3.8%.
Natural resources: Minerals, metals, fish, petroleum, natural gas, and forests.
Agriculture (7% of GDP): Products–sugar, potatoes, rice, yellow corn, cotton, coffee, poultry, beef, milk.
Manufacturing (15% of GDP): Types–fish meal, nonferrous metals, steel, textiles, chemicals, wood, nonmetallic minerals, cement, paper.
Trade: Exports–$7.0 billion: gold, copper, fishmeal, textiles, zinc, lead, coffee, petroleum products. Major markets–U.S. (29%), U.K. (9%), Switzerland (9%), Japan (4%) Germany (4%). Imports–$7.3 billion: machinery and parts, cereals, chemicals, pharmaceuticals, crude oil and petroleum products, mining equipment, household appliances and automobiles. Major suppliers–U.S. (27%), Andean Pact countries (16%), Argentina (3%), EU (16%), and Japan (7%).
Peru General Information: Why Visit Peru, Peru's Weather, Peru Coast, Peru Highlands, Peru Rainforest, Travel to Peru. Back to top
PEOPLE
MostPeruvians of European descent make up about 15% of the population; there also are smaller numbers of persons of African, Japanese, and Chinese descent. In the past decade, Peruvians of Asian heritage have made significant advancements in business and political fields; a past president, several past cabinet members, and several members of the Peruvian congress are of Japanese or Chinese descent. Socioeconomic and cultural indicators are increasingly important as identifiers. For example, Peruvians of Amerindian descent who have adopted aspects of Hispanic culture also are considered "mestizo." With economic development, access to education, intermarriage, and largescale migration from rural to urban areas, a more homogeneous national culture is developing, mainly along the relatively more prosperous coast.
Peru has two official languages–Spanish and the foremost indigenous language, Quechua. Spanish is used by the government and the media and in education and commerce. Amerindians who live in the Andean highlands speak Quechua and Aymara and are ethnically distinct from the diverse indigenous groups who live on the eastern side of the Andes and in the tropical lowlands adjacent to the Amazon basin.
Peru's distinct geographical regions are mirrored in a socioeconomic divide between the coast's mestizo-Hispanic culture and the more diverse, traditional Andean cultures of the mountains and highlands. The indigenous populations east of the Andes speak various languages and dialects. Some of these groups still adhere to traditional customs, while others have been almost completely assimilated into the mestizo-Hispanic culture.
Peru General Information: Why Visit Peru, Peru's Weather, Peru Coast, Peru Highlands, Peru Rainforest, Travel to Peru. Back to top
Education
Under the 1993 constitution, primary education is free and compulsory. The system is highly centralized, with the Ministry of Education appointing all public school teachers. Eighty-three percent of Peru's students attend public schools at all levels.
School enrollment has been rising sharply for years, due to a widening educational effort by the government and a growing school-age population. The illiteracy rate is estimated at 12.5% (17.4% for women), 28.0% in rural areas and 5.6% in urban areas. Elementary and secondary school enrollment is approximately 7.7 million. Peru's 74 universities (1999), 39% public and 61% private institutions, enrolled about 322,000 students in 1999.
Peru General Information: Why Visit Peru, Peru's Weather, Peru Coast, Peru Highlands, Peru Rainforest, Travel to Peru. Back to top
Culture
The relationship between Hispanic and Indian cultures has shaped the face of Peru. During pre-Columbian times, Peru was one of the major centers of artistic expression in America, where pre-Inca cultures, such as Chavin, Paracas, Wari, Nazca, Chimu, and Tiahuanaco developed high-quality pottery, textiles, jewelry, and sculpture. Drawing upon earlier cultures, the Incas continued to maintain these crafts but made even more impressive achievements in architecture. The mountain town of Machu Picchu and the buildings at Cuzco are excellent examples of Inca architectural design.
Peru has passed through various intellectual stages–from colonial Hispanic culture to European Romanticism after independence. The early 20th century brought "indigenismo," expressed in a new awareness of Indian culture. Since World War II, Peruvian writers, artists, and intellectuals have participated in worldwide intellectual and artistic movements, drawing especially on U.S. and European trends.
During the colonial period, Spanish baroque fused with the rich Inca tradition to produce mestizo or creole art. The Cusco school of largely anonymous Indian artists followed the Spanish baroque tradition with influence from the Italian, Flemish, and French schools. Painter Francisco Fierro made a distinctive contribution to this school with his portrayals of typical events, manners, and customs of mid-19th-century Peru. Francisco Lazo, forerunner of the indigenous school of painters, also achieved fame for his portraits. Peru's 20th-century art is known for its extraordinary variety of styles and stunning originality.
In the decade after 1932, the "indigenous school" of painting headed by Jose Sabogal dominated the cultural scene in Peru. A subsequent reaction among Peruvian artists led to the beginning of modern Peruvian painting. Sabogal's resignation as director of the National School of Arts in 1943 coincided with the return of several Peruvian painters from Europe who revitalized "universal" and international styles of painting in Peru. During the 1960s, Fernando de Szyszlo, an internationally recognized Peruvian artist, became the main advocate for abstract painting and pushed Peruvian art toward modernism. Peru remains an art-producing center with painters such as Gerardo Chavez, Alberto Quintanilla, and Jose Carlos Ramos, along with sculptor Victor Delfin, gaining international stature. Promising young artists continue to develop now that Peru's economy allows more promotion of the arts.
Peru General Information: Why Visit Peru, Peru's Weather, Peru Coast, Peru Highlands, Peru Rainforest, Travel to Peru. Back to top
GOVERNMENT
The president is popularly elected for a 5-year term, and the 1993 constitution permits one consecutive re-election. The first and second vice presidents also are popularly elected but have no constitutional functions unless the president is unable to discharge his duties. The principal executive body is the Council of Ministers, headed by a prime minister, all appointed by the president. All presidential decree laws or draft bills sent to Congress must be approved by the Council of Ministers.
The legislative branch consists of a unicameral Congress of 120 members. In addition to passing laws, Congress ratifies treaties, authorizes government loans, and approves the government budget. The president has the power to block legislation with which the executive branch does not agree.
The judicial branch of government is headed by a 16-member Supreme Court seated in Lima. The Constitutional Tribunal interprets the constitution on matters of individual rights. Superior courts in departmental capitals review appeals from decisions by lower courts. Courts of first instance are located in provincial capitals and are divided into civil, penal, and special chambers. The judiciary has created several temporary specialized courts, in an attempt to reduce the large backlog of cases pending final court action. In 1996 a Human Rights Ombudsman's office was created to address human rights issues.
Peru is divided into 24 departments and the constitutional province of Callao, the country's chief port, adjacent to Lima. The departments are subdivided into provinces, which are composed of districts. Authorities below the departmental level are elected.
Peru General Information: Why Visit Peru, Peru's Weather, Peru Coast, Peru Highlands, Peru Rainforest, Travel to Peru. Back to top
POLITICAL CONDITIONS
Peru is a republic with a dominant executive branch. Congress President Valentin Paniagua was selected according to Peru's constitution to head an interim government after President Alberto Fujimori fled the country and resigned in November 2000 in the wake of a bribery scandal and political turmoil resulting from his tainted re-election to a third term in June 2000.
The Paniagua government's principal objective is to conduct free and fair presidential and congressional elections in April 2001. A new 5-year government will take office in July 2001. The interim government is also investigating a web of corruption under the Fujimori administration run by Fujimori's closest adviser, Vladimiro Montesinos, and involving a wide range of government, political and business leaders.
Human rights violations by the security forces dropped considerably over the last several years, although there have been numerous accusations of human rights infractions. Reports of torture, and the lack of accountability and due process remain areas of concern. In 1995, the Peruvian congress passed a law that granted amnesty from prosecution to those who committed human rights abuses during the war on terrorism from May 1980 to June 1995. The Peruvian Government established in 1996 the Human Rights Ombudsman's office to address human rights issues and an ad hoc commission to review and recommend for presidential pardon those unjustly detained for terrorism or treason.
Peru General Information: Why Visit Peru, Peru's Weather, Peru Coast, Peru Highlands, Peru Rainforest, Travel to Peru. Back to top